In the province of Ontario, a status certificate is a report on the current state of a condominium corporation. The status certificate is prepared by the Board of Directors of the condo, and it provides a financial summary of the well-being of the building and information on those who run it.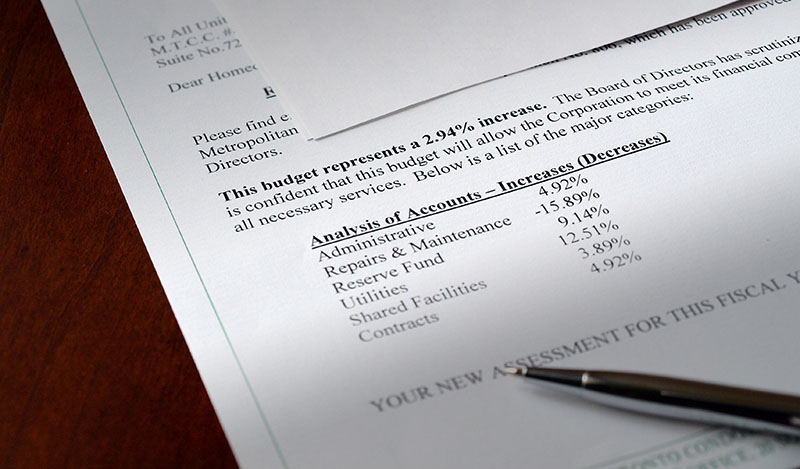 When buying a resale condo, it's extremely important you obtain a copy of, and carefully review, the status certificate before being locked into your purchase.
Typically, a status certificate is part of a package that also includes the condominium declaration (outlining the building's by-laws, rules and regulations), a copy of the insurance certificate, financial statements and a summary of the most recent reserve fund study.
Many offers on resale condominiums are conditional upon the review of a status certificate package by the buyer and his or her lawyer.  This clause is not part of the standard agreement, however, and should be added to any condo purchase offer by your real estate agent .
Reviewing a Status Certificate is an essential condition when buying a condo in today's real estate market, because it helps potential buyers from buying into a building that has problems with the condo management.
What information is included in a Status Certificate?
A status certificate provides information to a potential buyer about the condominium corporation's management structure, common expenses, the current budget, any legal issues or proceedings, unit leases, insurance, upcoming repairs or maintenance and the corporation's reserve fund; as outlined in Section 76 of Ontario's Condominium Act.
The financial statements outline expenditures, receipts and the current year's budget (including estimated costs and reserve fund information) which gives you—and your lawyer—a good indication of how fiscally healthy the property is.
A reserve fund study is commissioned every three years by the condo's Board of Directors, and it determines what major repairs need to be done, the timeline for them and whether or not the reserve fund has enough money to cover these costs.
If the condo is an older building, there could be outstanding repairs or things that need to be done, so there is always a chance the condo corporation could increase the monthly maintenance fees. Any immediate planned increase in fees will be included in the Status Certificate.
You'll also find information outlining whether or not there are any lawsuits ongoing against the the corporation, details of the building's insurance policy and whether any "special assessments" (extra fees that the owners must pay) are being considered or will be taking place.
Within the declaration, you'll find information on any restrictions, such as a "no pets" clause, and what rules you must follow when using common areas such as a swimming pool, gym facility or party room.
How do you get a status certificate?
Anyone can order a condo corporation's status certificate by providing a written request and paying the $100 fee, however this is typically only done when there is a prospective buyer of a resale condo unit. In the Greater Toronto Area it is typical for the Seller to pay the fee.
After submitting the request, you should receive the status certificate package within 10 days, though some condo corporations will rush the order for a fee. Once received, you and your lawyer typically have 48 to 72 hours to look over the documents and come to a decision.
Why do you need a status certificate?
Since a condo unit is subject to additional rules and regulations—as well as managed by a Board of Directors—there's an entirely different set of concerns for a prospective buyer than there is when purchasing a house.
You'll want to make sure that the Board of Directors is being fiscally responsible, that their budget is balanced, and that there is money in the reserve fund for any upcoming repairs. An unbalanced budget or depleted reserve fund is a red flag, and you could be on the hook for increased maintenance fees to cover repair costs.
You'll also find out if there are any lawsuits against the corporation or unsettled legal issues.
It's always a good idea to get your lawyer or realtor to contact the property manager as well and get as much information as possible before making a decision.
Since the condo corporation makes the rules about balcony barbecues, pets, and common areas, it's important to fully read the declaration in the status package to ensure their by-laws and regulations are a good fit for you.
A status certificate outlines all this information and more for you upfront, so there are no surprises later on down the line. This is why it's important to work with your realtor to ensure your offer is conditional upon a review of the status certificate package.